CryptoMagic HODL and Reference Cards
What I've been working on is the idea of 'CryptoMagic'-themed designs, to aid those HODLing crypto, introducing crypto, gifting or just for personal or learning reference.
First cards are now available, inspired by magic, fantasy, worn or vintage maps, or 'olden' style (tapping into the whole 'magic internet money' thing) on Zazzle.
Loosely 2 types of card just now [can be customised]:
CoinLight 'Info-Cards' (reference)
CoinLight 'HODL Cards' (reference plus space for public address)
On many cards there's also a 'scroll' for adding your own notes and a QR code to an associated Explorer webpage [this displays all transactions associated with your crypto address.]
The Bitcoin 'HODL Card' (featuring a 'HODL Hat' for adding coins from other wallets) is prepared for Bitcoin reference. I intend to make unique HODL cards for each leading crypto or network [as with VeChain] but of course any design can be used to feature an uploaded logo and/or QR code to sites or public crypto addresses.
You can use QRcodemonkey.com to easily create QR codes for any link for real-world reference and scanning. Then upload them to zazzle as you customise your design.
And… the full 'CryptoMagic' Collection
There are many more items in the full collection. There are customise options on most of the designs, for varied items from badges and coasters, mugs to stickers and wall-clocks. But I try to design for specific items.
So… go order something from the Crypto Magic Collection today!
Stay tuned for further art & design updates…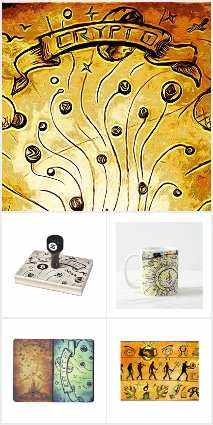 Ade mc , Nov 2019
Note: Feedback on products, suggestions or requests always appreciated.